Welcome to Our Mercedes-Benz of Bend Dealership
---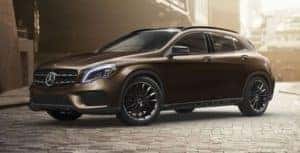 Mercedes-Benz of Bend is proud to sell and service Mercedes-Benz vehicles in the Bend area. With models like the new Mercedes-Benz C-Class, Mercedes-Benz GLC, and Mercedes-Benz GLA, we have something for every taste. Browse our inventory new Mercedes-Benz cars to check out the model you've been eyeing. If you're looking for used cars, Mercedes-Benz of Bend has a huge selection of Certified Pre-Owned Mercedes-Benz cars too.
Mercedes-Benz of Bend's General Manager Jennifer Durfee, and team are committed to complete customer satisfaction and are confident they can help you find exactly what you're looking for. Even though we offer big city offers and selection, you can always count on us to be your hometown dealer.
As your Mercedes-Benz of Bend dealership, it's our aim to ensure that you have an experience unlike any other. So, we offer online car buying and home deliver in Bend and the surrounding areas. If you'd like to test drive a vehicle but can't make it to our location, we'll bring it to you. Are you ready to make that purchase official? Our team will even bring the final paperwork to your home. It's never been easier than it is now to buy Mercedes-Benz online.
Mercedes-Benz Services
Be sure to come see us at our Mercedes-Benz Service Center for all your scheduled maintenance needs. We also have genuine OEM Mercedes-Benz parts and accessories available at our Mercedes-Benz Parts Center. Come see us today and we'll help you with anything you need from an oil replacement to adding a roof rack to your Mercedes-Benz SUV.
Community Partnerships
For over 80 years, Kendall has been giving back hundreds of thousands of dollars to local charities and organizations that support families, children and education. Through our Kendall Cares program, we donate and invest in the communities we serve by supporting a variety of causes like youth development and health care for the underserved. We care about what you care about.
Over 80 Years Of Serving You
Kendall Auto Group traces its roots to 1937, when Merrill Kendall became part of the Simmons-Kendall Company, a Ford dealership in Eugene, Oregon. In 1963 Walter DeMartini bought and created Kendall Ford, Inc. The Kendall company has remained a family-owned business since then.
Our Mission
Our mission at Mercedes-Benz of Bend is simple: To deliver an unrivaled customer experience. Through our highly motivated, knowledgeable and caring team of professionals, we pledge to listen and respect your needs. Doing the right thing means more than selling and servicing vehicles. Our progressive attitude means being exceptional stewards of the communities we operate, as well as the environment. It means going above and beyond every day for the people who mean so much to us–our customers.