---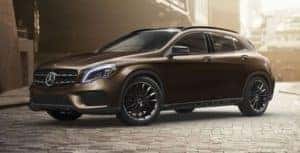 There is nowhere else you need to look other than our Mercedes-Benz dealership in Bend, OR when you shop for new Mercedes-Benz for sale. Shop our new Mercedes-Benz cars for sale in Bend, OR today to get into cars built with quality, luxury, and class in mind. If you need to handle tough terrain once in a while, shop for new Mercedes-Bend SUVs for sale at our Mercedes-Benz dealer in Bend, OR! We have great new Mercedes-Benz SUVs for sale like the new Mercedes-Bend GLA, new Mercedes-Benz GLB, new Mercedes-Benz GLC, new Mercedes-Benz GLE, and new Mercedes-Benz GLS! Performance has never been more available than in our new Mercedes-Benz cars for sale like the new Mercedes-Benz A-Class, new Mercedes-Benz C-Class, and more! Stop by our Mercedes-Benz dealership at 61440 S Hwy 97, Bend, OR 97702 where we serve new Mercedes-Benz for sale to the surrounding areas of Terrebonne, Madras, and Sisters. Don't forget to also check out our Bend pre-owned cars for sale, Bend pre-owned trucks, and Bend pre-owned SUVs! If a new Mercedes-Benz isn't for you then check out our Certified Pre-Owned Mercedes-Benz cars for sale!
Have your new Mercedes-Benz delivered from our Mercedes-Benz dealership with Kendall home delivery if you'd like to purchase your new car from home. Custom order your Mercedes-Benz from the factory and we'll drop it off for you when it gets here! To get started on the Mercedes-Benz purchase process, fill out our online car loan application and we'll help you find what kind of Mercedes-Benz finance options are available. Our online trade-in value form can also help you find an appraisal for your current vehicle! Sell your car to us at our Mercedes-Benz dealer if you're looking to get out of the old now and in with the new later.
Our Mercedes-Benz Service Options with Mercedes-Benz Parts
Schedule an appointment with our Mercedes-Benz Service Center in Bend, OR if you need help with getting your Mercedes-Benz back on the road. Our Mercedes-Benz service technicians are certified to work on any Mercedes-Benz vehicles and are equipped with Genuine Mercedes-Benz parts to get your car back on the road. We also work on vehicles from other manufacturers so let us know what we can do to help you and your car at Mercedes-Benz service in Bend, OR! If we don't have the Mercedes-Benz parts you need for your car so you can do the work yourself, let our parts center know and we'll order the auto parts for your car from the factory or find them at a neighboring Mercedes-Benz dealership.
Shop with Mercedes-Benz Finance in Oregon
If you are having trouble finding the right auto financing for your new Mercedes-Benz or pre-owned Mercedes-Benz, try Mercedes-Benz finance at our Mercedes-Benz dealer! We have all sorts of auto finance plans for you to browse and apply for a car loan toward. We offer competitive rates at our Mercedes-Benz Finance Center and can't wait to help you find the right one for you and your new Mercedes-Benz at our Mercedes-Benz dealer in Bend, OR.
Community Partnerships
For over 80 years, Kendall has been giving back hundreds of thousands of dollars to local charities and organizations that support families, children and education. Through our Kendall Cares program, we donate and invest in the communities we serve by supporting a variety of causes like youth development and health care for the underserved. We care about what you care about.
Over 80 Years Of Serving You
Kendall Auto Group traces its roots to 1937, when Merrill Kendall became part of the Simmons-Kendall Company, a Ford dealership in Eugene, Oregon. In 1963 Walter DeMartini bought and created Kendall Ford, Inc. The Kendall company has remained a family-owned business since then.
Our Mission
Our mission at Mercedes-Benz of Bend is simple: To deliver an unrivaled customer experience. Through our highly motivated, knowledgeable and caring team of professionals, we pledge to listen and respect your needs. Doing the right thing means more than selling and servicing vehicles. Our progressive attitude means being exceptional stewards of the communities we operate, as well as the environment. It means going above and beyond every day for the people who mean so much to us–our customers.